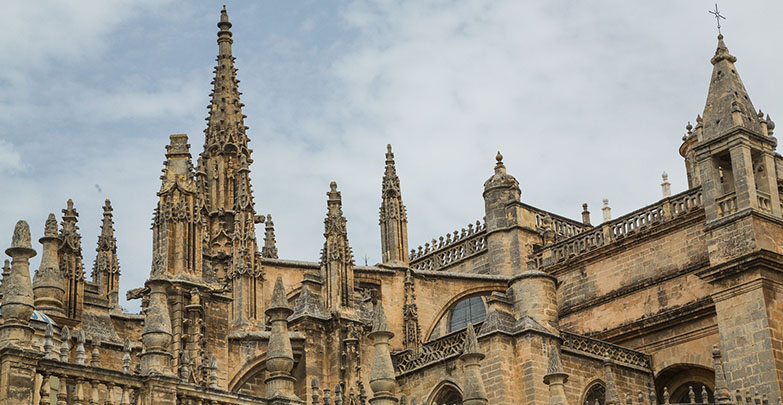 TOUR MONUMENTAL
Stop at Universidad
Standing in the very heart of Seville, this impressive Gothic cathedral is simply breathtaking. Originally intended as a mosque, work on the building began in the 12th century under the Almohad dynasty. The main temple building was finished in 1528, having been restored as a Catholic church. Nearly 500 years later, the cathedral is surrounded by annexes, with restoration work ongoing to conserve the splendour and solemnity that characterise it both inside and out. It was declared a UNESCO World Heritage Site in 1987.
Several annexes have been added to the main building with the passing of time, such as the orange grove, the Columbine library and of course, what has become the iconic symbol of Seville, the Giralda tower. Though initially designed as a mosque, as is readily apparent from its artistic style, the Giralda as we know it today dates back to the 16th century. 
Did you know? The climbing ramp is big enough to accommodate horse and rider.
10% discount for online purchase
Just one ticket (valid for 2 days in a row) offers you the chance to enjoy Seville, hopping on and off the bus as often as you like. 
PRACTICAL INFORMATION
Telephone

Opening hours

Monday - Saturday (10.45 a.m. - 5.00 p.m.); Sunday (2.30 p.m. - 6.30 p.m.)

General admission price

€11.00 Online/€12.00 Ticket office (Check the website for discounts and special prices)
Discover other places of interest